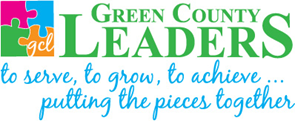 Green County Leaders has several exciting opportunities coming up in April!
Green County Leaders April Session: Leadership Legacy
Wherever you are in your leadership journey, reflecting on your leadership legacy is a fantastic opportunity for intentional growth! Whether you have participated in this before, or if this is a new opportunity to explore, this is incredibly valuable for leaders!
NEW! GCL 2021: Leadership & Government Series
Click here to register for the special Leadership & Government series happening in April!
If you live or work in Green County, you are invited to join in these special sessions to learn more about government in Green County at the local, state, and federal levels. There is no financial cost to join any session. You can register for one or more sessions. For more information about these special sessions, check out this webpage. 
Session 1: Introduction to Civics & Local Government (6pm-7:30pm on Thursday, April 1)
Session 2: Effective Communication with Local Officials (6pm-7:30pm on Thursday, April 15)
Session 3: Effective Communication with State & Federal Elected Officials ((6pm-7:30pm on Thursday, April 29)
Green County Leaders is non-partisan. These sessions are for educational purposes only, not for lobbying. 
Victoria Solomon, AICP
Associate Professor, Community Resource Development
University of Wisconsin Madison Division of Extension -- Green County
2841 6th Street Monroe, WI 53566
Phone: (608) 328-9440. Call 711 for Wisconsin Relay. 
Email: Victoria.Solomon@wisc.edu
Pronouns: she/her/hers.
 

The University of Wisconsin-Extension is an Equal Employment Opportunity/Affirmative Action institution committed to diversity among its employees and in its programs. 

La University of Wisconsin-Extension es una institución que brinda igualdad de oportunidades en el empleo y acción afirmativa (EEO/AA, por sus siglas en inglés), y comprometida con la diversidad entre sus empleados y en sus programas.